›
›
›
HSK Duplex-Holding Holder


Holder can be changed by one-touch operation
With the conventional system, insertion of the wrench must be repeated for changing the holder, but, with Yukiwa System, this work has been simplified and the holder changing time can be shortened consequently. Since the locking system of the conventional system locates inside the unit, it is hard to insert the wrench by adjusting its socket hole. However, Yukiwa's locking system locates outside the clamp unit and the adjustment of the socket hole can easily by done and the work efficiency is much improved.
HSK Standard holders(DIN 69 893)
Available for any types.


Only turning 120°for clamping / unclamping
In the conventional clamping system, the wrench must be turned several times for clamping / unclamping, but, in Yukiwa's system, it is required to turn the wrench only 120° and the holder changing can be done in much shorter time.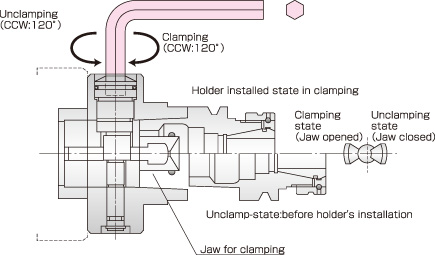 Comparison of holder changing procedure
You can save time of changing the holder.


page top
Clamp set with flange holder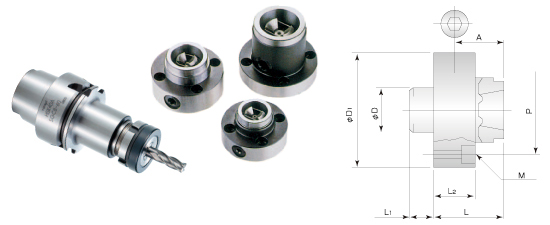 | | |
| --- | --- |
| ♦ | Special sizes are also available. |
| ♦ | For other details, please inquire to us. |
| ♦ | All kinds of HSK holders can be manufactured, please inquire us for further details. |

page top