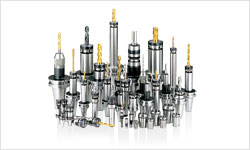 Yukiwa tooling systems are characterized by the chucking method with the collet chucks, such as Super G1 Chucks guaranteed 5μm of integrated run out and New Drill Mill Chucks of best seller. By being used on the machining centers, tapping centers, NC lathes and special purpose machines, our tooling systems contribute to improve the cutting tool's life time, to shorten the cycle time by improving the rapid feed rate and to reduce the costs at your factory.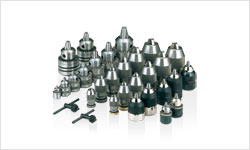 Yukiwa Seiko has several varieties of Drill Chucks, such as; Drill Chucks for drilling machines, High precision Keyless Drill Chucks for machining centers or jig borers, Drill Chucks/Keyless Drill Chucks for electric power drills/rechargeable drills. We can manufacture Drill Chucks not only of standard sizes, but also of special sizes. The quality is recognized worldwide.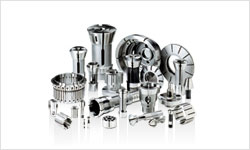 Yukiwa is manufacturing the Spring Collets over 50 years or more as a special maker of Spring Collets. And there are actual sales results of various Spring Collets according to the form and the operating condition of the work at customer. The high quality which does not allow follow of the other companies, such as stable accuracy, spring nature, durability, etc., has obtained high reliance from many customers including Japanese major automotive parts suppliers.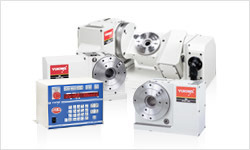 Yukiwa CNC Rotary Tables and Index Tables are installed on the machining centers, tapping centers and special purpose machines and are used in various workings and operations, such as the machining of automobile parts, IT parts and etc., and also auto-transfer line. They have variety of features, such as light weight, compact, high precision, strong rigidity, patented water protection structure, which contribute to rationalization of production and the cost reduction in your company.