YUKIWA Direct Drive CNC Rotary Table has achieved high speed rotation and zero backlash furnished with a built-in direct drive (DD) motor. This series is available for machining wide range of products such as parts for automobiles and IT related products, and greatly contributes to shorter production lead time and cost reductions for your production.
Exclusive for
Brother Compact Machining Center SPEEDIO
Yukiwa controller AC5-60A
DRD170
High speed/high accuracy indexing

Furnished with a newly developed high speed/high torque direct drive motor, high speed indexing is
possible, which will greatly contribute to reduction in the cycle time. In addition, a high resolution encoder is equipped as well, which enables high accuracy indexing.



Powerful/high-speed Clamp

This model boasts of high clamping force and is compatible with air pressure of 0.5MPa. In addition, the short clamping and unclamping time leads to reductions in the cycle time.



Thin and compact

The total thickness of the body is compact with 160 mm. Even if mounted on a small machining center, a large jig area can be kept. Also, 6 ports rotary joint can also be installed.
■ Absolute detection ■ Zero backlash ■ Fine water-protection
■ 
Model
For S300X2
For S500/700X2
For F600X1
For R450X1

For R650X2

DRD170-BCM52S
DRD170-BCM52M
DRD170-BCM52M
DRD170-BPC51 (2 tables for double pallet)
DRD170-BPC51-1 (1 table for single pallet)
DRD170-BPC54 (2 tables for double pallet)
DRD170-BPC54-1 (1 table for single pallet)

Model
DRD170
Mounting direction 
Horizontal use only
Table diameter
(mm)
140 (*1)
Table faucet hole diameter
(mm)
50H7
Table center through hole dia.
(mm)
46
Guide piece width
(mm)
14h7
Center height
(mm)
135
Product thickness
(mm)
160
Indexing accuracy (cumulative)
(sec)
15
Repeating accuracy
(sec)
4
Rated rotation speed
(min-1)
200
300
Allowable inertia moment (*2)
(kg・m²)
0.50
0.25
Indexing time (*3)
(sec)
90°
0.51
0.40
180°
0.58
0.46
Table rotation torque
(Nm)
39
Air supply pressure
(MPa)
0.3~0.7
Clamp torque
(Nm)
Shutoff
100
at 0.3MPa
350
at 0.5MPa
600
at 0.7MPa
900
Clamp operating time
(sec)
0.13 (*4)
Product weight
(kg)
63

※

Fixture sets and air tubes are attached as standard accessories.

※
*1

Sub table φ140 can be supplied as an option.

※
*2

Allowable value for the load

※
*3

Including clamping/unclamping time

※
*4

Total time of clamping and unclamping.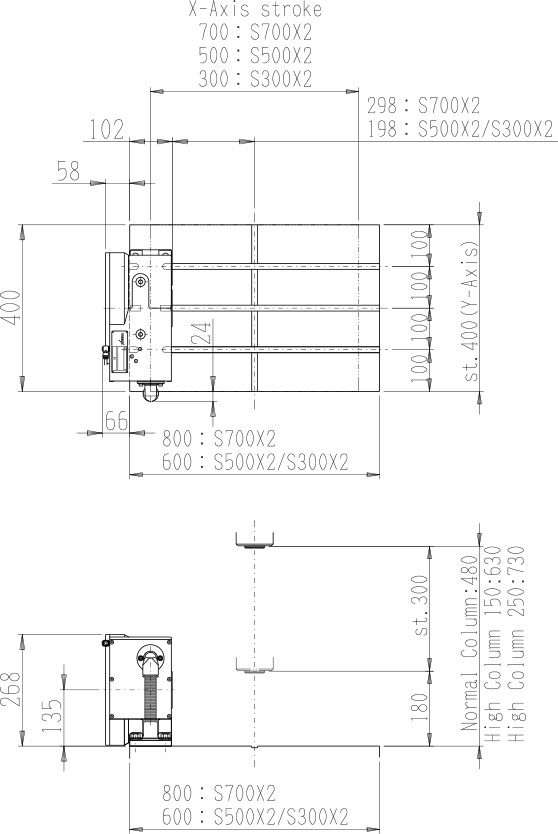 ▲Dimension drawing
SPEEDIO SX
PDF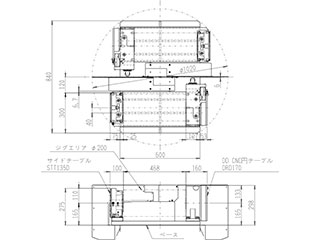 ▲Dimension drawingSPEEDIO RX450PDF