Yukiwa CNC tilting rotary tables are installed on the machining centers, tapping centers and special purpose machines and are linked with them to be used for the multi-face machining of the parts for automobile, IT and so on. They contribute to the streamline of production and the cost reduction in your company with their easy handling, high rigidity, high precision and durability.

TNT Series
Wider working area
Available for various synchronized multi-face machining
Easy jig designing
Since the working area is wider, the jig designing is easy. The motor cover and the cables do not move during table rotation.
High clamping torque
Air hydraulic clamping mechanism gives high clamping torque. (TNT170)
Outstanding water protection
Auto-Air Purging system (PAT.) is built in as standard and effects against coolant outstandingly.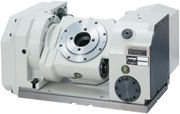 TNT100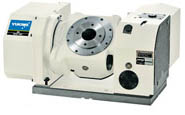 TNT170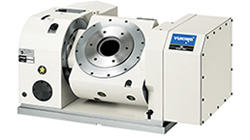 TNT250
■ Accurate indexing  ■ Light weight・Compact ■ Easy maintenance
Unit:mm
Model
Right Handed
-
TNT170R
Left Handed
TNT100L
TNT170L
Axis
Rotating Axis
Tilting Axis
Rotating Axis
Tilting Axis
Table diameter
100
―
120
―

Table faucet hole diameter

50H7 depth 23
―
55H7 depth 45
―

Table center through hole diameter

28
―
40
―

Table face height of rotating axis

180
―
240
―

Center height of tilting axis

―
135
―
180
Tilting range
―
110〜
-20°
―
110〜
-20°
Clamp system
Air pressure (0.5〜0.7MPa)
Clamp torque (N・m)
200
300
520
1100

Indexing accuracy (Cumulative)

Within 35 sec.
Within 40 sec.
Within 35 sec.
Within 40 sec.
Total reduction ratio
1/72
1/120
1/72
1/120

Maximum rotation (min-1)

41.6
25
41.6
25
Guide piece width
14h7
14h7
Weight (kg)
80
138
| | | |
| --- | --- | --- |
| | | |
Model
Right Handed
TNT250R
Left Handed
-
Axis
Rotating Axis
Tilting Axis
Table diameter
180
―

Table faucet hole diameter

90H7
―

Table center through hole diameter

72
―

Table face height of rotating axis

295
―

Center height of tilting axis

―
225
Tilting range
―
110〜
-20°
Clamp system
Air pressure (0.5〜0.7MPa)
Clamp torque (N・m)
1050
1200

Indexing accuracy (Cumulative)

Within 25 sec.
Within 40 sec.
Total reduction ratio
1/90
1/120

Maximum rotation (min-1)

33.3
16.6
Guide piece width
18h7
Weight (kg)
280
| | |
| --- | --- |
| | |
| | |
| --- | --- |
| | |

TRB/TRBH Series




High-speed indexing

Shortening the indexing time contributes to improve productivity in your company.
TRBH140 is higher-indexing type on rotating axis. High speed indexing of 83.3min−1 is available.

Easy jig designing

Since the working area is wider, the jig designing is easy.

Easy work programing

Since the table face of rotating axis and the center of tilting axis is aligned, the work programing is easy.

Outstanding water protection

Auto-Air Purging system (PAT.) is built in as standard and effects against coolant outstandingly.

TRB140
TRBH140(High Speed Spec.)
■ Accurate indexing ■ Light weight・Compact ■ Easy maintenance
Unit:mm
Model
Right
Handed
TRB140R, TRBH140R
Left
Handed
TRB140L, TRBH140L
Axis
Rotating Axis
Tiling Axis
Standard spec.
(TRB)
High speed spec.
(TRBH)
Table diameter
140
―
Table faucet hole diameter
40H7 depth 10
―

Table center through hole dia.

28
―

Table face height of rotating axis

215
―

Center height of tilting axis

―
215
Tilting range
―
110°〜−110°
Clamp system
Air pressure (0.5 〜 0.7Mpa)
Clamp torque (N・m)
120
450

Indexing accuracy (Cumulative)

Within 40 sec.
Within 60 sec.
Within 90 sec.
Total reduction ratio
1/72
1/36
1/90

Maximum rotation (min-1 )

41.6
83.3
33.3

Indexing time (second)
(Clamping/unclamping time of 0.2 sec. and processing time of AC4 controller are included.)

10°
0.79
0.73
0.88
30°
0.95
0.84
0.97
90°
1.18
1.00
1.31
180°
1.56
1.17
―
Guide piece width
14h7
Weight (kg)
129
| | |
| --- | --- |
| * | Guide piece (2pcs), Fixtures (2sets), Air tube (5m) for table clamping are attached. |
| * | Corresponding to Controller for CNC rotary table or to motor for additional axis. |